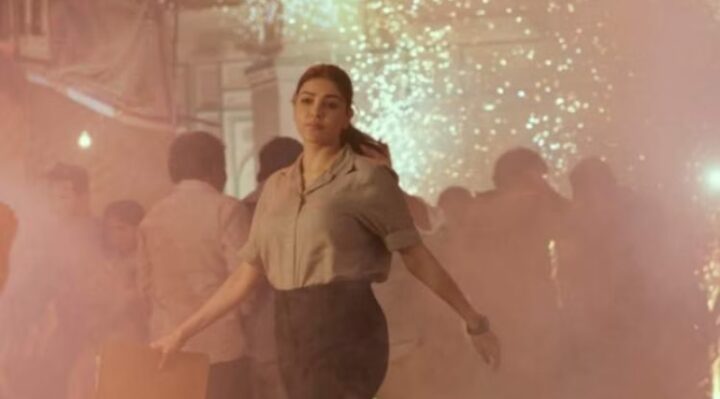 The teaser for Satyabhama launched on Friday. Kajal Aggarwal plays Satyabhama, a police woman in the upcoming crime thriller.
On Friday, actress Kajal Aggarwal and the movie's creators released the teaser for Satyabhama, her upcoming action movie. In the Telugu movie, Kajal plays a police officer. They teased followers with the Satyabhama teaser on Instagram, writing, "Satyabhama teaser out now." With Satyabhama, Queen @kajalaggarwalofficial is now the "queen of masses."
Watch the teaser of Satyabhama
A few days before Diwali, the teaser was unveiled, showcasing Kajal as the lead police officer. When the video begins, Kajal is seen observing a woman who perished in her police car. An investigation scenario, in which Kajal's Satyabhama is suspended, comes next.
Satyabhama searches for the murderer despite being prohibited from carrying out her duties. She is seen searching for the person completely covertly in the following frame. Kajal is seen fighting with what appear to be dresses while hiding her face.
About the movie
"ACP Satyabhama confronts her haunted past, diving into a high-stakes investigation to find a missing man," the creators claimed in a YouTube teaser post. Redeeming herself depends on her discovering dark truths in several shadowy communities. Will the past overcome her, or will its shadows consume her?"
Akhil Degala is the director of the crime thriller Satyabhama.
Under the Aurum Arts banner, Bobby Tikka and Srinivas Rao Takkalapelly produced Satyabhama. Sri Charan Pakala created the film's soundtrack. The Kajal film is scheduled for release in December. In June of this year, Kajal's 60th film's official title was revealed in honor of the actor's birthday.
Recent projects of Kajal
Kajal most recently starred in Karungaapiyam, a Tamil horror movie. The film, directed by D Karthikeyan, starred Regina Cassandra, Janani Iyer, and Aadhav Kannadasan in primary roles.
Her next appearance will be in the film Indian 2, directed by Shankar, which also features important roles for Siddharth, Bobby Simhaa, Priya Bhavani Shankar, veteran actor Kamal Haasan, and Rakul Preet Singh. The first part came out in 1996.