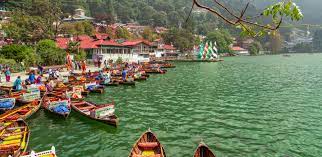 Nainital is one of the best tourist places to visit in Uttarakhand, which is rested in Kumau mountains.
It is one of the best Hill stations. This place is allocated behind the antique-shaped lake.
This place is also known as Naini Lake.
People also called that 'this place is heaven because of the beauty of this place.
The Nainital covers a total area of 11.73 km2 (4.53 sq mi), and is located at 29.38°N 79.45°E,[10] at an average elevation of 2,084 metres (6,837 ft) above sea level.
Watch the video for More-
HOW TO REACH NAINITAL BY FLIGHT

Nainital does not have direct FLIGHT. The nearest airport is at Pantnagar, which lies at a distance of 65 kilometres from Nainital and from there you get so many buses, and taxis to Nainital.
HOW TO REACH NAINITAL BY TRAIN

The nearest junction is Kathgodham Railway Station, located around 34 km away, which is the nearest rail junction to Nainital. there are trains connecting Nainital with Delhi and Dehradun. Passengers coming from Kolkata, Lucknow, Agra and Mathura, can take a train till Kathgodam and then hire a private cab or shared taxi for Nainital.
HOW TO REACH BY CAR/TAXI

The best and shortest route from Delhi to Nainital is via National Highway 24 which covers a total of 298 kms. You also get the chance to see greenery and beautiful view of the mountains.