The Ajanta – Ellora caves located in the Sambhaji Nagar district of Maharashtra, India. It is one of the largest rock-cut Hindu temple cave complexes in the world.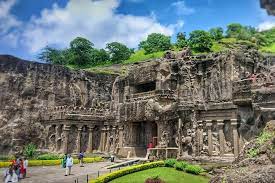 The Ajanta – Ellora caves have evolved during the period 2nd century BC to 6th Century AD. The paintings and sculptures of Ajanta and Ellora caves are UNESCO World Heritage Sites since 1983 and are considered masterpieces of Buddhist religious art that have had a great influence in the development of art in India.
For more watch video-
What is difference between Ajanta and Ellora Caves?
While Ajanta is mostly about beautiful paintings made on cave walls on the theme of Buddhism, Ellora is all about sculpture and architecture belonging to three different religions prevailing in the country during those times—Buddhism, Hinduism and Jainism.
Nearest Bus Stand to Ajanta Caves–
You can take a Maharashtra State Road Transport Corporation (MSRTC) bus that takes off from Aurangabad Central Bus Station to the north of Siddharth Garden and the Zoo, and drops you off at the Ajanta Caves entrance road.
Nearest Airport to Ajanta Caves
Aurangabad Airport, a domestic airport, about five and a half kilometre from the city centre is the closest airport to the Ajanta Caves. 
Which railway station is near to Ellora Caves?
Apart from Aurangabad railway station, Jalgaon railway station is the closest railway station that is situated 59 km away from Ellora.