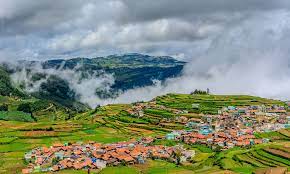 Ooty is a resort town in the Western Ghats mountains, in southern India's Tamil Nadu state. Ooty is most famous for its tea plantations.
What is the best time to visit Ooty?
Ooty has good climate all year, the best time to visit Ooty is in the summer months between March and June. the roads are easier and safer to drive on during this time.
Why Ooty is famous for tourism?
The establishment of several numbers of tea estates made Ooty famous. Most of the hotels, resorts, cottages are all located near tea estates because it gives a wonderful view to the tourist.
For more watch video-
How to reach Ooty by Air?
The nearest International Airport is Coimbatore International Airport. Coimbatore Airport is well connected to a cities like Delhi, Kozhikode, Mumbai, Ahmedabad, Bangalore, Chennai and Hyderabad via Air Arabia, Air India, Indigo, Jet Konnect and Spice Jet.
How to reach Ooty by Rail?
Ooty has its own Railway Station named as Ooty Railway Station. It is connected to the major cities of Tamil Nadu. It is situated on the major New Delhi- Coimbatore railway line and is linked with the cities like New Delhi, Bangalore, Coimbatore, Chennai, Kochi, Mysore, Lucknow, Chennai, Kanyakumari, Puri, Ahmedabad and Jaipur.
How to reach Ooty by Road?
Ooty linked through Tamil Nadu State Road Transport Corporation (TNSRTC) and some private travel services.