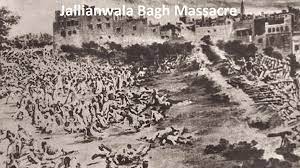 The Jallianwala Bagh is a historic garden and memorial dedicated to those wounded and killed in the Jallianwala Bagh Massacre during the festival of Baisakhi, 13 April 1919, near the Golden Temple complex in Amritsar, Punjab, India.
In the indiscriminate firing ordered by Colonel Reginald Dyer, 379 people, including men, women, and children, were killed while 1,200 were injured.
What is the most famous thing about Jallianwala Bagh?

The Jallianwala Bagh in Amritsar is one of the most poignant memorials to free India. Near the Golden Temple of Amritsar, the Jallianwala Bagh is a public garden that contains a memorial to the British massacre of peaceful celebrators.
For more watch video-
How to reach
By Road:
Amritsar is connected to all major cities through NH1. You can either take your car for a drive or get on a bus from nearby towns viz. Ambala, Patiala, Chandigarh and even Delhi. The bus stop is merely 2 km far from Jallianwala Bagh.
By Railway:
The railway junction connects Amritsar to major Indian cities including Delhi, Mumbai, Hyderabad, Ahmedabad and Kolkata. The station is 4 km away and takes only 10 minutes by a cab to reach Jallianwala Bagh.
By Air:
Sri Guru Ram Dass Jee International Airport, which is 15 km away. Amritsar also has international connectivity with Dubai, Malaysia, Singapore and other countries, and once you reach, you can use rental cars or public transportation. Cabs, rickshaws as well as buses are available to take you to Jallianwala Bagh.