About Vaishno Devi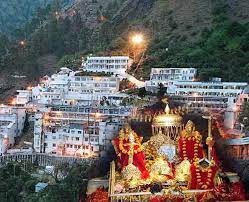 Vaishno Devi rested in mountains.
Vaishno Devi makes everyone's wishes come true.
This is one of the world's best holy place tours.
Vaishno Devi menifasted in Trikut parvata's.
every year Millian of visitors visit the temple from worlds different places.
Watch video for more information-
Best Time To Visit-
Vaishno Devi is open for pilgrims throughout the year, but the best time for the journey is between the months of March and October. A lot of visitors visit Vaishno Devi between these months as the weather is cool and pleasant, but maximum visitors plan their trip during the Navratras.
There are lots of travelling options. we can use diffrent modes of travelling
modes are train, flight, bus, taxi, car.
HOW TO REACH TO KATRA BY FLIGHT
Nearest airport is in jammu tawi.which is 46.7km away from katra.
If you did'nt get palkot flight then then take amrutsar flight and then go by bus or by train
HOW TO REACH KATRA BY TRAIN
Nearest train junction is katra junction.
If you didnt get katra's train then we can book for jammu tawi.
if you do not get direct train from your place then go for amrutsar or delhi.
From there you will get lots of trains to katra.
HOW TO REACH KATRA BY BUS
We can reach at delhi by train then there are lots of buses.
also the temple trust provide the buses for visitors.
we also got bus from jammu ,kashmir.
BY CAR/TAXI
To reach by car we can follow the bus route
The Road route from Delhi is 165km