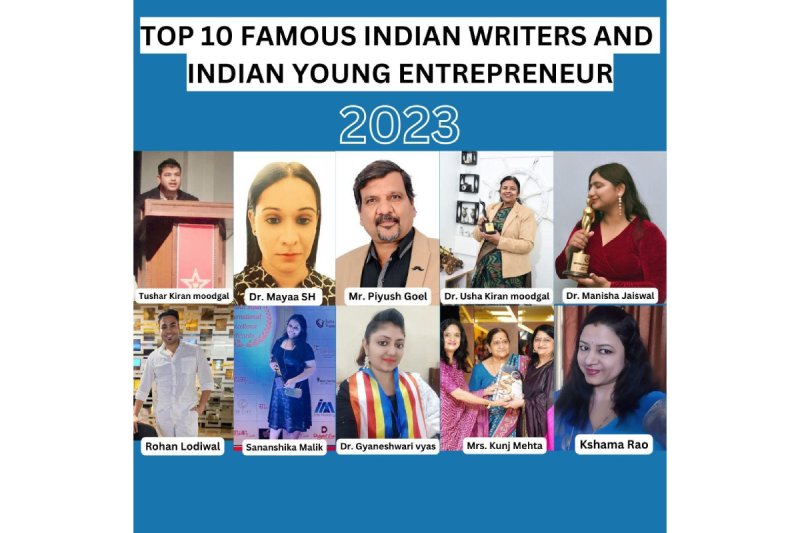 In the dynamic world of literature and poetry, the year 2023 has witnessed a remarkable constellation of talent. These ten extraordinary writers and poets have not only left an indelible mark on the literary landscape but have also garnered numerous accolades and world records for their exceptional contributions. Here, we delve into the lives and achievements of these literary luminaries who have redefined the art of storytelling and verse.
DR. USHA KIRAN MOODGAL :- Usha Kiran Moodgal is a Hindi poetess, researcher, and dancer who has garnered national as well as international recognition and achieved multiple world records for her remarkable accomplishments. Originally hailing from Delhi, she holds the esteemed position of International Ambassador at Dawn Research and Development Council, establishing herself as a prominent figure within the literary and artistic community. One of her notable contributions to literature is the poetry compilation "Kavya Tulika," which has received immense acclaim and numerous accolades. She has also collaborated on various poetry anthologies that have garnered widespread recognition and earned her numerous laurels. Usha Kiran Moodgal diligently pursued her education, earning post-graduate degrees in Hindi and History after completing her undergraduate studies. On January 28, 1987, she began her married life by tying the knot with Ashok Moodgal. Her life is a vibrant tapestry interwoven with literature and dance, two passions that have profoundly enriched her existence. Recently, she was honoured with the "Bharat Shree National Award" and the prestigious "Honorary Gold Medal Award by DRDC Global" in recognition of her unwavering contributions to the field of literature. Notably, her book "Kavya Tulika" earned her the esteemed "Sahitya Sthambh Puraskar 2023" as well as the "Sahika India International Award" for "Best Poetry Book of the Year". She also recieved the distinguished title of "Sarvashreshtha Kavyitri 2023" from Drop of Change. In acknowledgment of her significant contributions to contemporary Hindi literature, Usha Kiran Moodgal has received the esteemed "Maharshi Valmiki Bharatiya Gaurav Samman 2023," "Tagore Ratna Samman," "Nazrul Sahitya Samman Laureate Award," as well as the "Ishwar Chand Vidya Sagar Iconic Achievers Award." Her poetry compositions, including "निर्णय" and "ख़ामोशी," published in various collaborative editions, have also gained notable recognition. The Inkzoid Foundation recently honoured her with the title of "साहित्यिक विद्या मे उभरती प्रतिभा" (Emerging Talent in the Field of Literature), further solidifying her reputation. Usha Kiran Moodgal received international acclaim when she was awarded the "Asian Excellence Award 2023" in Singapore, the "Hope International Appreciation Award" and the "Helen Keller Global Iconic Award" for her remarkable contributions to Hindi literature. Usha Kiran Moodgal has also begun sharing her captivating compositions through her Instagram account, @ushakirankavyanjali. Additionally, her works have been featured in newspapers, digital and media platforms. She has featured on the cover of literary and lifestyle magazines such as Lidue and the Eagle Eye, allowing her to reach a broader audience and leave an indelible mark on the literary landscape.

TUSHAR KIRAN MOODGAL Tushar Kiran Moodgal is an award-winning poet and a multiple world record holder from Shahdara, Delhi. He has co-authored over 25 poetry anthologies and his debut poetry book, "Lamentations," won the "William Shakespeare Golden Book & Laureate Award".Tushar draws inspiration from his father late Shri Ashok Moodgal and credits him for instilling a love for literature and the written word in him along with master poets such as William Wordsworth, John Keats, Edgar Albert Guest, and Edgar Allan Poe, amongst others. Tushar's poetry has undergone a significant evolution over the years, starting with a lot of angst during his teenage years, and later moving towards more philosophical themes. He is a firm believer in the teachings of the Geeta and is a strong advocate of the Stoic philosophy. In 2023, Tushar's literary pursuits were widely recognized as he recieved the "Bharat Shree National Award" for his contributions to English poetry and literature. He made multiple world records with his poem "Rhapsody Of Twilight," gaining entry into the Inkzoid Book of Records, Glorious Book of Records and Candid Book of Records for which he recieved appreciation awards from the Hope Foundation and MBR. He was honoured with the "Jane Austen Platinum Book Award" as the "Best Laureate of the year" and the prestigious "Maharishi Valmiki Bhartiya Gaurav Samman 2023" for his contribution to contemporary literature, particularly his philosophical poetry. He also received the coveted "Tagore Ratna Samman", "Ishwar Chand Vidya Sagar Iconic Indian Achievers Award" and "Nazrul Sahitya Samman Laureate Award" for outstanding literary and intellectual achievements. Tushar was honoured with the "Kalam Rashtriya Pratibha Samman" as the most inspiring young literarian He is also the recipient of the "National Appreciation Award" in the literature category. His other accolades include "The Best Poet" and "Poet of the Year" awards from Drop of Change Publications and the "Wandering Minds Best Philosophical Poetry Award" for the poem "Conquering of Self." He was named as one of the "Outstanding Poets" for his work on "Mysterious Fantasy" anthology by Instant Publications. His poem "Birds of Misfortune" published in Evincepub's bilingual anthology "Anokhe Alfaz" recieved the "Most Soulful Poetry Award". Tushar's unique style of philosophy laddened poetry earned him the title of "Breakout Poet 2023" from Inkzoid Foundation. Tushar's literary works also recieved international acclaim as he was conferred upon the "Hope International Achievement Award" and the "William Shakespeare International Award".His poetry has been published in several newspapers and digital media. Apart from his literary pursuits, Tushar is interested in Philosophy, History, and the study of political behaviour and its effects on culture. He pursued a master's degree in Political Science and International relations and also studied Japanese language at St. Stephen's College, Delhi University. Tushar has worked as a sports journalist for independent media platforms such as Vrinsidesports, Game Has Just Begun, and Bleedsport. He is a passionate fan of Chelsea F.C. and is currently the serving club secretary for the Delhi chapter of the Chelsea India Supporters Club. Tushar frequently shares his poetic musings and contemplations on his Instagram account @tusharkiranmoodgalpoetry.

Dr. Gyaneshwari Vyas :-
(Smriti), was born in Bhopal, Madhya Pradesh. She is a young and passionate writer of the new age. She has completed her M.Sc.in (Botany), M.A. in (English), M.A. in (Hindi), D. Pharmacy, B.Ed. , M.Ed. and PGDCA. Presently, she is a Ph.D. scholar in R.I.E., Bhopal. She has an experience of about 17 years. She is also proficient in computers and is always eager to learn about new things. Apart from this, she is associated with many newspapers, anthologies, a Bureau Head of Sanskar News & s member of Jaipurnama Newspaper. She co-authored in 120+ anthologies and won Attainers Best Author Award-2022, Literature Award, State Mahila Shakti Puraskar, Writer of the Year Award-2023, IIFA Award, Forever Star by Books of World Records, Best Achievers Award by Magic Book of Records, award as an Educationist & Author by Samyatha Seva Sansthan, Jhalawar, Rajasthan, 6th Position among 1crore authors of India by LWC, Kavya Shree Samman -2022, Envoy Award, Author of the Year Award-2022 by Secret Superstar's Community, International Women's Day Women Pride Award, Best Author in India's Top 31 Women Achievers Award, International Naari Chetna Samman-2023, Sunshine Author of India-2023, Best Poet Award- 2023 by Drop of Change Publication, Best Educationist and Author Award by Samarthya Sewa Sansthan Jhalawar and so on..

KSHAMA RAO :-
AUTHOR AND FOUNDER OF KASHMIRA PURAVASINI PUBLICATIONS Kshama is a post graduate in Human Development from Bangalore University. She was in Africa for eight years during her childhood as her father was a doctor there. Author Kshama has written and published seventeen books which are sold on many online sites and few offline sites. Her book is sold on the shelf of world's largest bookstore BARNES AND NOBLE. Kshama has a passion to write and share her knowledge with readers. She has co- authored more than fifty books. She is also the CEO&Founder of Kashmira Puravasini Publications. She has received many awards like Spirit Mania popular author award, Critic space award, Laureate award, Naaari samman award, Star award, Munshi Prem chand kahaani ratna award, Women victory award 2022, Aaj ki Naari award, Spectrum awards, Jnanotkarsh academy Antararashtriya Naari Shaurya award. Kalam ki Khanak Sahitya Sashakt mahila Kanak samman, antar rashtriya sakhi sahitya parivar Kavya Pratibha Samman, Hunar network Iron woman award 2023, Best founder of year 2022 by Incredible Indian awards, Naari Shakti Samman by Mahalakshmi Shiksha Prasarak, 2023 Pride award by Quiditch Publications,Antar rashtriya Padma Samman by Sakhi Sahitya Parivar etc. She was felicitated by Padmashri awardee Nayana Apte from the WIN foundation, Mumbai, Jnanotkarsh academy and Holistic research foundation. She was invited as guest of honour by Sai Dnayanad foundation. She was a jury member of Dreamers community and Sparkling Cornepress Media writing communities. She has written more than five hundred articles for different blogs with world wide readers. She was interviewed in the Asian Chronicle newspaper, Kadalvani newspaper of south coastal region, M.T Kenya Times, Daily hunt, The Hindustan Metro The Daily Beat, R.K magazine, Insight success magazine, Hello India, Indian flux, News waale, Jaipur samachar patr, Sanskar news, Indian stories live, The gram today, Punjab Metro, Amrit Rajasthan, Funky news, Merged Array magazine, Indian stories live, Tales that matter, and in many different blogs and many different magazines. Drawing, dancing, singing, gardening, cooking, reading, modelling, ramp walking, shopping, doing social work, acting and directing dramas are her hobbies.

Mayaa SH :-
She is a known name in Contemporary Literature .She is a Multi-National and State Award Winner, a ten times a World Record Holder, An Artist, a Podcaster, a Record Chart Topping International Fastest Anthology Co-Authoress . Mayaa SH is as an Indian authoress,writer ,thinker, essayist, and a women empowerment culturist . Her contemporary prose work has highlighted onto break so many stereotypes about women and their power of self belief .
She is a B.com pass person and a 53 years old leading lady . She started her own business around 3 years ago. mene 3 sal phele apna name Keshav Creation.In this business she does manufacturing,business of handicrafts items, marriage items,corporate gifts etc . She has a great dream of publish there franchise in our of India.
Manisha Jaiswal Won More Than 42 Titles Within The Age Of 24 .

Manisha Jaiswal , Now H.c. Dr. Manisha Jaiswal (Doctrate in Creative Writing) won more than 42 titles within the age of 24 and has been absolutely inspiring to the youth generation through her contributions in the field of literature along with this she became a well known name among the big names in the literary field which proves age is just a number and she also received the "Best Of The Best 2023" title from INKZOID FOUNDATION for her achievements in row when it comes to the field of literature.

Manisha Jaiswal was born in West Bengal with dream to make a change in the society who recently completed 4 years in the field of writing as a passionate writer.Professionally she is serving for a Pvt organization.Apart from her profession She Loves to read and in her spare time she loves to resolve the questioner of her mind.

Dr.Manisha Jaiswal's:- Manisha Jaiswal's success story is all about winning titles like Rabindranath Tagore Literature,Nazrul Sahitya Samman,Naari Samman Sheroes Award,TGP Woman Choice Award 2023 along with this she came In Namya magazine for the edition of march and the Inspiring Woman Volume IV as the cover star and became the author of the book "Shattered And Twilight" after she got featured as the Top 50 Literacy Award 2023,Best Poet Of 2022 and Top Iconic Personalities Of 2023 apart this she is also a multiple world record holder for writing a 14 liner poem (sonnet) in which all the sentences begins with the letter 'M' at the age of 23 and her name enters in the INKZOID Book Of Records and Glorious Book Of Records for her contribution in the field of literature.She also India's Top 20 Prestigious Artist Award, Dr. APJ Abdul Kalam Azad National Excellence Award, India's top 30 Achievers Award for her contribution towards literature. Not only with this She is a co-author in more than 50 books. She is a regular contributor of Namya Publication Magazines. She has written her own solo book named "Tonic of Love &Heartbreak" and also Compiled "The Dynamic Love World" book. People always asked her about her inspiration, and she simply replied that her inspiration is her parents "Mr. Manoj Jaiswal (Father) and Asha Jaiswal (mother)." Both inspire and motivate her in achieving her goals and her friends always supported her. Along with this She is Holding the Position of Magazine Director in Drop of Change Publication.

Awards Won By Manisha Jaiswal
1. Rabindranath Tagore Literature 2. Nazrul Sahitya Samman 3. Naari Samman Sheroes award 4. In Namya magazine for the edition of march as the cover star 5. In the Inspiring Woman Volume IV , She is the Cover Star of the page 6. TGP Woman Choice Award 2023 7. Top 50 Literacy Award 2023 8. Author Of The Book "Shattered And Twilight" 9. INKZOID Book Of Record Holder 8. Glorious Book Of Record Holder 9. Featured As Top Iconic Personalities Of 2023 On Google News 10. Best Poet Of The Year 2022 from INKZOID FOUNDATION 11.India's top 30 Achievers Award 12.Dr. APJ Abdul Kalam Azad National Excellence Award 13.India's Top 20 Prestigious Artist Award 14.Compiler Of "The Adduce Date" 15.Her first solo book "Tonic Of Love & Heartbreak" 16.Compiler of the book "The Dynamic Love World" 17. Bana bhatta Sahitya Purushkar 18. Atal Swarna Samman 19. Bharat Bhushan Award 20. Rashtriya Ratna Award 2023 21. Magic Book of Record winner 22. Iconic 40 Glaze Award 23. International Award Winner 24. Helen Keller Global Iconic Award 25. Maharishi Valmiki Gaurav Samman 26. Savitri Jyoti Samman 27. National World Records Award 28. The William Shakespeare Golden book and Laureate Award 29. Achievers Award 2023 by Inkzoid foundation 30. Purple Quill Award 31. Aspire to Inspire Award 32. Subhash chandra Bose Memorial Award.. 33. Best of the Best Award 34. Talent Hunt Award 35. Author Of the Year Award 36. Lifetime Achievement Award in the Field of Literature (awarded her in Delhi) 37. Official member of TIWC and PWP. 38. 16 personalities of contemporary literature. 39. India's Inspirational Author 40. Golden kalam award 41. Golden book award 42. "Best Of The Best 2023" title by INKZOID FOUNDATION 43. Netaji Subhash Chandra Bose Memorial Award 2023 44. Received Doctorate Degree from Grace Ladies Global Academy and Received the Trophy too.

Mr. Piyush Goel :-
(born 1967) also referred to as Mirror Image Man by media, is an Indian writer, author, and world record holder, known for writing books in Mirror image style. In 2012, he set the record by writing World's First Needle Book Madhushala of Harivansh Rai Bachchan by using a needle.

Rohan Lodiwal:- A Delhi-based entrepreneur, is the CEO and founder of SKY INNOVATION AND SERVICES (DIGITAL PR FIRM). He holds a BA (Hons) in English from Delhi University and has a strong passion for language and communication. Lodiwal's dedication to linguistic diversity led him to pursue an international language course in French at Alliance Francaise in Delhi. His outstanding leadership and innovation have earned him the prestigious Founder of the Year award, recognizing his remarkable contributions to the business world. Lodiwal's achievements have garnered attention from the media, resulting in an interview with a prominent news portal. As the head of SKY INNOVATION AND SERVICES, Lodiwal has successfully established a prominent position in the digital PR industry, providing innovative solutions and strategies to clients. His expertise and vision continue to drive the success and growth of the firm, making it a trusted name in the field.

Sananshika Malik:- Hailing from Delhi, India, is a talented individual with a diverse range of accomplishments. She graduated with a BA (Hons) in English from Delhi University, showcasing her passion for literature and language. Currently, Malik holds the esteemed position of co-founder at Sky Innovation and Services, a prominent company. Her expertise and dedication have earned her numerous awards in the field of literature. Notably, she has authored over 50+ books and has gained recognition as a bestselling novelist through her work with Shh;! Book. Impressively, at just 21 years old, Her entrepreneurial spirit and creative talent have propelled her to remarkable success in the literary world. With her contributions as an author and a key figure in the publishing industry, Malik continues to make waves and inspire others with her achievements.