The Darlings teaser shows Shefali Shah and Alia Bhatt, Alia's mother and daughter, kidnapping Alia's husband, Vijay Varma, and even defending it.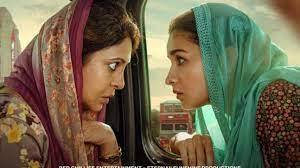 The frog versus scorpion tale that Alia Bhatt narrated in the teaser is expanded upon in the Darlings trailer, which is now available. In addition to Vijay Varma and Roshan Mathew, the movie also stars Shefali Shah and Alia as a witty mother-daughter team.
The trailer begins with Alia and Shefali going to a police station to report Hamza, the former's spouse, as a missing person (Vijay Varma). The two are responsible for planning Hamza's abduction and even enlist the aid of Roshan Mathew's Zulfi. The mother-daughter team's decision to abduct and torture Hamza in their own home is explained later in the trailer, along with possible legal justifications.
Alia posted photographs of herself alone on Instagram before to the release of the trailer. She dressed for the occasion in a flowy yellow dress.
Jasmeet K Reen, who makes her directorial debut with the movie, is the director. Darlings is billed as a dark comedy-drama that examines the lives of a mother-daughter team battling against all difficulties to make their place in Mumbai. They search for courage and love in unlikely situations.
Darlings, which was created by Gauri Khan, Alia Bhatt, and Gaurav Verma, will debut on Netflix on August 5. Alia had expressed her enthusiasm for the movie in a statement, "Since Darlings was also my first production as a producer, and with Red Chillies, it has a very special place in my heart. We are quite pleased and proud of how the movie has turned out, and we hope that it will enthral and excite viewers everywhere."