'Emergency Is A Black Spot On India's Vibrant Democracy': Modi Tells Indian Community In Germany
While addressing the Indian diaspora in Munich, Germany, during two-day G7 visit, Prime Minister Narendra Modi said, "Today, we can proudly say that India is the mother of democracy… "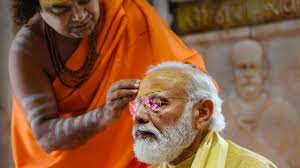 "The diversity of culture, food, clothes, music and traditions makes our democracy vibrant. India has shown that democracy can deliver and has delivered," he added
Prime Minister Narendra Modi on Sunday said the 1975 Emergency is a black spot on India's vibrant democracy. Addressing the community programme in Munich, Prime Minister Modi while throwing light on the Emergency imposed in the country in 1975 said it "was our democratic mindset that eventually prevailed and resisted" the same.
"Today is the anniversary of the dark chapter in India's history – the Emergency – that was imposed in 1975. It was our democratic mindset that eventually prevailed and resisted the Emergency," he said.
Prime Minister Modi said climate change is just not a matter of policies in India, adding sustainable climate practices have become a part of the lives of the people.
"We have made over 10 crore toilets in the country. Now, the people understand their duty to keep the country clean," he added, news agency ANI reported.
Prime Minister Modi also talked about the Covid-19 vaccination in the country.
"There was a time when people said India will take 10 to 15 years to vaccinate its population against Covid-19. Today, 90% of adults have taken both doses and 95% of adults have taken at least one dose," he said.
He said India is one of the cheapest data providers in the world with the highest mobile data consumption.
"We are making new records in data consumption, data prices, and even digital transactions. India is leading the way," PM Modi said.
From Germany, Prime Minister Modi is scheduled to the United Arab Emirates on June 28  to pay his condolences on the passing away of Sheikh Khalifa bin Zayed Al Nahyan, the former president of the Gulf nation who passed away on May 13 after battling illness for the last several years.
Watch Video Here: