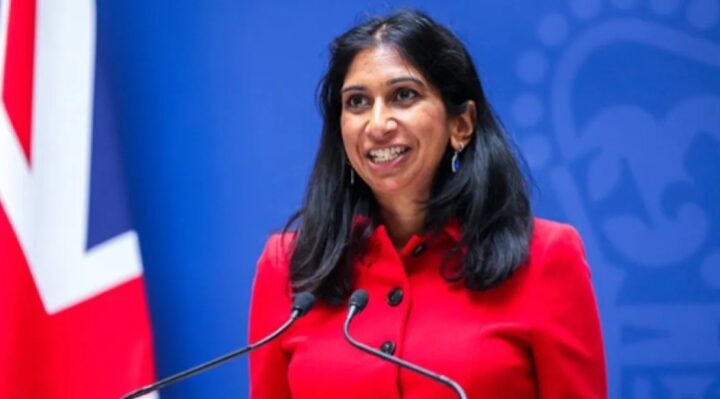 The parents of Suella Braverman left India for the UK in the 1960s. She has championed British colonialism as a politician and taken a tough stance towards immigrants.
The second senior cabinet minister to leave in the past week was Britain's interior minister Suella Braverman, who announced her resignation on Wednesday.
While citing a "technical" violation of government policy in her resignation letter—sending an official document from her personal email account—Braverman also criticised Prime Minister Liz Truss, stating that she had "concerns about the course of this government." Grant Shapps, who didn't support Truss for the PM position and was fired as transport minister when she took office, will be the UK's new interior minister.
With her recent remarks regarding Indian migrants overstaying their visas, Braverman recently threw a wrench in the works of the trade agreement between India and the UK. Later, in what appeared to be a course adjustment, she stated that "the stories of India and the UK are so closely connected that they are essentially the same story."
Who is Suella Braverman
Braverman, a 42-year-old lawyer and leader of the Conservative Party, was elected to the UK Parliament from Fairham in 2015 and held the office of attorney general for England and Wales from 2020 to 2022. She ran a campaign to leave the EU and worked as a junior minister in the Brexit department under the previous prime minister Theresa May, but she quit in protest at her suggested Brexit deal because she believed it did not go far enough to sever connections with the union.
Braverman was a front-runner in the early stages of the UK prime minister election to succeed Boris Johnson, but he was defeated in the second round. In September, she and Chancellor Kwasi Kwarteng, who was fired on October 14 under Truss, were both appointed interior ministers.
In the 1960s, Braverman's parents—her mother from Mauritius and her father from Kenya—migrated from India to the UK. Her father is of Goan origin, while her mother is of Hindu Tamil ancestry.
As a politician, Braverman has supported the deportation of immigrants to Rwanda while defending British colonialism. "Not only have we broken key promises that were made to our voters," she wrote in her resignation letter, "but I have had serious concerns about this government's commitment to honouring manifesto commitments, such as reducing overall migration numbers and stopping illegal migration, particularly the dangerous small boats crossings."
What was Braverman's opinion of India?
Early in October, Braverman expressed her concern that a trade agreement with India would increase immigration to the UK at a time when Indians already made up the largest group of visa overstayers in an interview with The Spectator magazine.
Given that I don't believe that people who voted for Brexit intended an open-borders immigration policy with India, Braverman stated, She responded, "I do have some misgivings, regarding visa flexibility for students and businesspeople. Take a look at immigration in this country. The majority of overstayers are immigrants from India.