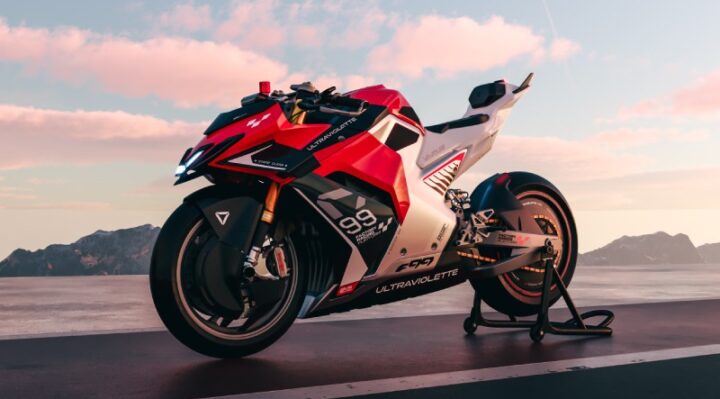 At EICMA 2023, Ultraviolette Unveils a High-Performance Electric Motorcycle
The F99 electric motorcycle, the latest product by Bengaluru-based Ultraviolette, was exhibited at the esteemed EICMA 2023 show. The F99 is the brand's first entry into the racing motorcycle market, and it seems to be a fantastic addition to their portfolio.
The Ultraviolette F99 electric bike's key features
The liquid-cooled powertrain of the F99 electric motorcycle has a maximum speed of 265 kilometers per hour (kmph). It weighs 178 kg, which is a decent amount and neither too light nor too heavy.
With a new liquid-cooled motor producing a peak power of 120 bhp (90 kW), the F99 race-spec model on display at EICMA represents a major upgrade over the F77. It can accelerate to a top speed of 265 kmph in just 3 seconds, from 0 to 100 kmph.
With winglets and ducts on the front cowl and side panels, as well as other innovative aerodynamic features, the F99 increases downforce during cornering. Electronically operated in real time, these parts can adjust to different lean angles.
With its futuristic design with integrated air windshield, carbon fiber accents, and sharp panels, this completely faired electric motorcycle is eye-catching. In order to improve the motor's performance during rides, it also has two front cowl ducts.
Plans for Ultraviolette's Worldwide Launch
In 2025, Ultraviolette intends to introduce the F99 sportsbike to the world, establishing its global footprint. According to the firm, the F99 Factory Racing Program will encompass both racing and the production version, which is anticipated to be available on international markets by 2025. It is expected to cost approximately Rs 8 lakh (ex-showroom).
Expansion to the European Market
In other news, Ultraviolette Automotive has declared that the F77 electric motorcycle will soon be available in Europe. Registration for the European version, which will cost between 9,000 and 11,000 euros, will open on November 15, 2023. Performance numbers for the European-spec F77 and the August 2023-released F77 Space Edition are comparable.
The F99 has mirrorless styling, slick tires, and no space for a license plate holder because it is specifically made for racing. Its aerodynamic design, which has prominent winglets and distinctive Ultraviolette illumination, is reminiscent of fighter jets.
Actor Dulquer Salman is a proud owner of Ultraviolette's F77 road bike, but the F99 is notably lighter, faster, and more powerful than it.
Cutting Edge Technologies and Dynamic Aerodynamics
One of India's fastest electric two-wheelers, the F99 features carbon fiber bodywork and a weight decrease of 178 kg thanks to weight-saving methods.
To improve airflow and downforce during cornering, an innovative active aerodynamics package consists of an electronically-actuated "Air-Blade" and a "air windshield."