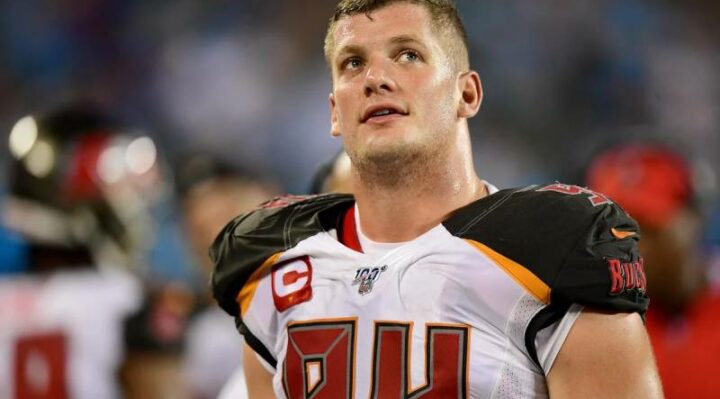 Carl Nassib, a former defensive end for Penn State, is hanging up his cleats after becoming the first active NFL player to come out as gay in 2021.
On Wednesday, Nassib made his retirement from football official.
Nassib stated on Instagram, "It really feels like yesterday starting out as a walk-on at Penn State". "Football has given me more than I ever could have imagined. I can truly hang up my helmet for the last time knowing I gave it everything I had."
Nassib, a walk-on from West Chester's Malvern Prep, played at Penn State from 2011 to 2015.
Nassib was a full All-American in 2015, broke Penn State's single-season record for sacks with 15 1/2, and took home the Lombardi Award, Ted Hendricks Award, and Lott IMPACT Trophy. In 2015, he was also selected as the Big Ten defensive player of the year.
Nassib was chosen by the Cleveland Browns in the third round of the 2016 NFL Draught. He played for them for two seasons until being released. Nassib spent a few seasons with the Tampa Bay Buccaneers before moving on to the Oakland Raiders and signing a new contract with Tampa Bay in August 2022.
Nassib played in 13 games for the Buccaneers last season, compiling 3 1/2 sacks and recovering a fumble.
While he was a player for the Raiders in June 2021, Nassib made his homosexuality public. Nassib stated, "I thought nobody would care. But it was just such a good feeling to have all that support. I was glad to do my part to help bring visibility and representation to my community."
Nassib announced his retirement in order to focus on Rayze, a firm he started and an app that links users with nonprofit organisations in need of volunteers and money.