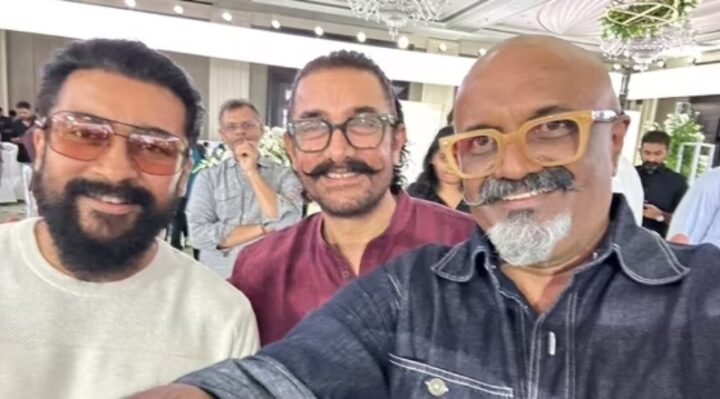 In Chennai, Aamir Khan takes care for his sick mother, who is getting treatment in the city. On Monday, the actor was present at Kamal Haasan's birthday celebration. The experienced actor celebrated his 69th birthday on Tuesday with a pre-birthday party attended by friends and colleagues in his industry. Aamir appeared with Tamil actor Suriya during the party, which was hosted at a hotel in Chennai, and their photo is becoming viral on social media.
Suriya and Aamir take a photo at the birthday celebration
On X (previously Twitter), someone shared a photo of the actors smiling and posing with a partygoer, writing, "Two Ghajinis in one frame at Kamal Haasan's birthday party." In 2008, AR Murugadoss co-wrote and directed the Hindi action film Ghajini. Aamir Khan and Asin featured in it. Ghajini was a remake starring Suriya that was based on the Tamil film of the same name directed by Murugadoss.
Aamir wore a maroon kurta with glasses to Kamal Haasan's birthday event, while Suriya wore a white fit and brown eyeglasses. A fan commented on their photo, saying, "Good to see them both." Someone else commented, "Two megastars together."
Parthiban claimed Aamir walked towards him
Radhakrishnan Parthiban, a director and actor, posted a selfie with Aamir while at the celebration. He talked about his recent meeting with Aamir in a long post that he posted on X with their photo. He said that Aamir approached him after seeing him at Kamal Haasan's function.
In Tamil, he wrote the following about Aamir: "A highly regarded actor through his films in Indian cinema." A man, who never ceases to amaze me. On Kamal Sir's birthday last night, he noticed me enjoying myself while standing apart and came over to inquire what was causing all the tension on my forehead. How did you get there? Just a few visits before, I would tell him about my efforts and he would compliment me, and I would compliment his excellent photos. There is nothing like his incredible friendship.
According to an India Today report from last month, Aamir, who is very close to his 89-year-old mother Zeenat Hussain, will be by her side in Chennai. The report cites individuals who state that Aamir is staying at a hotel near the hospital where Zeenat is getting treatment.