Amber/ Amer Fort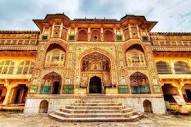 Amer Fort or Amber Fort is a fort located in Amer, Rajstan. Amer Palace is great example of Rajput Architecture. The Amber Fort were built by Raja Man Singh. The Palace is divided into six separate but main sections each with its own entry gate and courtyard.
What is inside Amer Fort?
It is located at around 11km from Jaipur. The fort is built on Hindu architectural background having gates, temples, palaces, and other structures. For providing water inside the fort, there is a Maota Lake nearby.
For more watch the video-
Amer Fort Visiting hours.
Fort is open till 5pm only. If you wish to see the fort from inside, you must reach early and spend 2-3 hrs to see the whole place.
How do I get into the Amber Fort?
Amer Fort is 11 km away from the Pink City. You can take a private vehicle or the city bus, which runs every day. You can opt for the Amer Fort elephant ride to experience the royal way of entering the palace. You can ride a jeep vehicle available, which will take you up the Amber fort.
How can I get to Amer Fort from railway station?
Take the Metro from Railway Station to Badi Chaupar. Take the bus from Badi Chopad to Amer Fort.