Born in the Royal Family of Odeh Ajloun, being the last decedent of Palestinian Persian Royal House. Princess Dyana Shiffaire is known for her Global Presence from her education from Cambridge university London in world finance to livin la vida loca lifestyle in Paris and Spain. Being a celebrity & socialite in India, with papparazzy taking over the Beauty Industry with Formulation of luxury products, manufacturing and distribution.
Princess Dyana Shiffaire has recently been spotted at The House of Versace relishing gourmet delicacy at Dubai UAE also rejoining her TikTok account posting her video at Dubai Creek which was shared by TikTok Dubai on their account confirming her migration to UAE.
Dyana Shiffaire who has been a social media sensation since Musically, Insta and now TikTok had gone dormant with her post due to reasons unknown however the diva is back with her Gorgeous Glamorous self and lifestyle.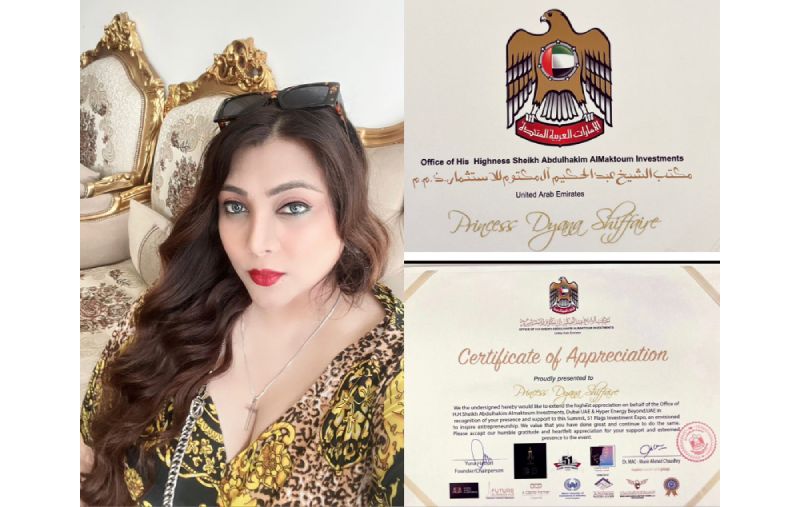 The Buzz has been created in Dubai already turning heads with her persona and walking her way to success in her high heels.
She intends to capture the Beauty Industry in Middle East countries starting from Dubai UAE, expanding Papparazzy's potential taking over the Luxury and Affordable luxury brands.
Rumour has it she is launching her own luxury brand called " Shiffaire " in 2024
During her stay, Princess Dyana Shiffaire was Felicitated by Certification of Appreciation from The Office of His Highness Sheikh Abdulhakim AlMaktoum Investments – Dubai UAE
We at Globe states wish her all the very best for her upcoming ventures & " Welcome to Dubai Princess Dyana Shiffaire "